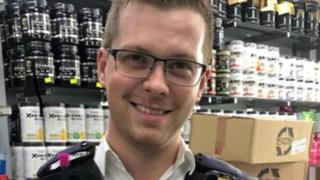 A police officer was fighting to "stay alive" when he was attacked with a machete during a routine stop in east London, a court has heard.
PC Stuart Outten, 29, was stabbed in the head as he tried to arrest Muhammad Rodwan in Leyton on 7 August last year.
The Old Bailey heard he had sent a text earlier that night saying he was "off to cause trouble".
Mr Rodwan, 56, of Luton, admits striking the PC but denies attempted murder, claiming it was self defence.
PC Outten suffered six wounds to the head, skull fractures, injuries to the arm and broken fingers, the jury has been told.
Giving evidence, the Met PC told the court he was "on the lookout" for traffic offences during a night shift when he came across a "suspicious" white van which he thought could be without insurance.
PC Outten said Mr Rodwan had appeared "extremely angry" at being stopped and tried to make off but he used his leg to stop the 56-year-old closing the van door.
"I tried to say 'you're not leaving' and then the defendant punched me twice to the face," he said.
The officer told the jury he "grabbed" Mr Rodwan by the belt, neck and dreadlocks "to incapacitate him" but the 56-year-old lunged into the van.
The officer said he then felt "something sharp being snapped against my head" and realised he was being attacked with a 2ft (60cm) long rusty machete.
PC Outten said he then stumbled away and "gave a quick command of 'police with Taser'," before he fired it.
When he was asked why he fired, the officer replied: "To stop myself being attacked with a machete and save my own life."
Earlier that night, he had sent a text to his girlfriend, who is also a police officer saying: "Right I'm off to cause trouble. Stay safe and I will chat when I can."
Defence barrister Michael Turner said he was "sure you will say it is an ironic comment in a sense after what happened that night".
Jurors were also shown a video of the attack taken from mobile phone footage and officers' bodycams during which Mr Rodwan could be heard before he was Tasered by the heavily bleeding officer.
Mr Rodwan denies attempted murder, an alternative of wounding with intent, and possessing an offensive weapon.
The trial continues.
washing machine soho

Source link